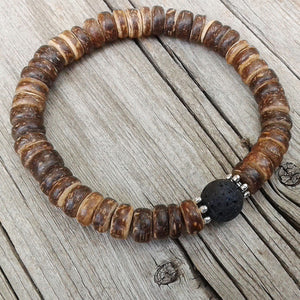 Mystic Mala
Good Earth (Maika'i Honua) Bracelet
Regular price
$16.00
$0.00
Unit price
per
Maika'i Honua in Hawaiian translates to "Good Earth" and this bracelet truly reflects this. The coconut shells hug the Lava stone to enrich the wearer with grounding emotions.
Hand strung beads in Toronto, ON Canada. For longer life, please roll the bracelet onto your wrist rather than stretching the elastic.
Sizing: Please measure your wrist and then add 1/2" to get your bracelet size.
Coconut Shell: The Sanskrit name for coconut is kalpa vriksha, which means "the tree that provides all the necessities of life."
Lava stone (8mm): This fiery brimstone comes from the core of the earth and bubbles to the surface and cools. Its' origin plays a key role in its energetic qualities. Lava is known for its grounding qualities and is wonderful for calming the emotions. It is considered to be a stone of rebirth and is thought to help shed unneeded layers of emotional attachment.
Chakras: Root (1st)
---